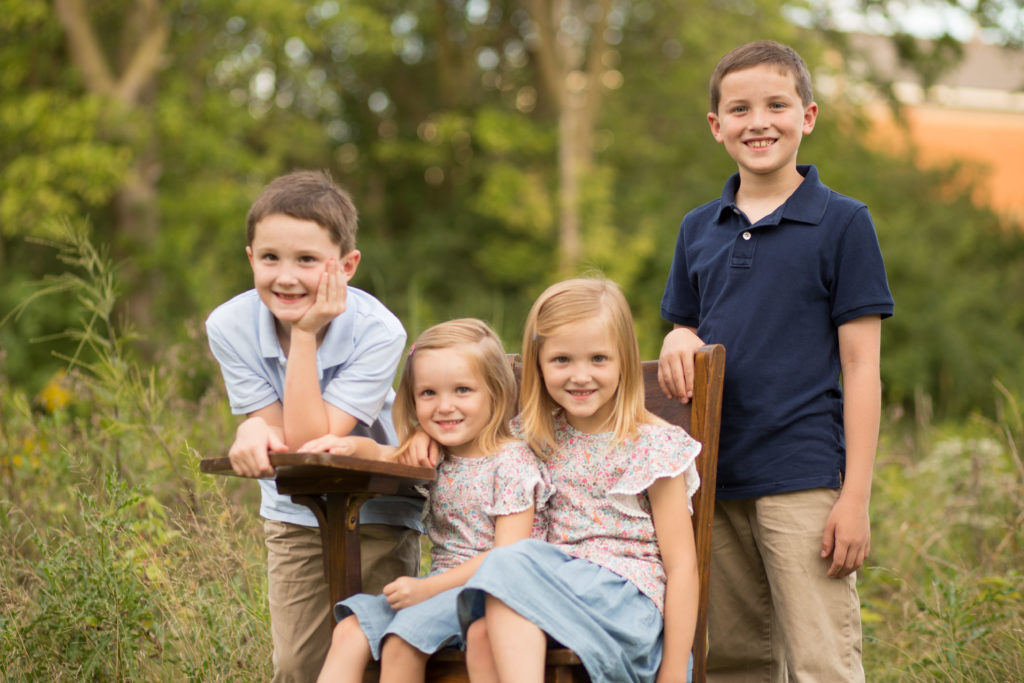 Well here we are again! For the FIFTH YEAR it's time for Back-to-School pictures for local homeschooling families! (Please note this is a service I offer ONLY to those who are homeschooling at least one child in their family.) This year is very special for me because we are just one year away from our eldest starting Kindergarten & I'm beyond excited to officially "join" 😉 the local homeschool community as a homeschooling family ourselves!
So what are Back-to-School Mini Sessions? Well here's two links where I share the past two year Back-to-School mini session recaps (2018 & 2017) & you can see what types of images we'll get & the fun we have 🙂 And then below are the details of where to signup & date & pricing info.

I wanted to ask for your help. Each year I have gotten a wonderful response from local families & thus have been able to continue to offer these mini sessions for so many years now. Will you help me continue to offer this special service? If you could share this blog post with your homeschooling friends thru email & or facebook that would help me out so much! This helps ensure that each mini session spot is taken & that I am able to continue offering this year after year. Now that I'm a mom of two & I also nanny two days a week, I have to be wise with my time & what things I offer thru my photography business. As long as I can keep booking these mini sessions every year, I will continue to offer them. So please share away after you get your own spot of course 😉 Thank you friends! I can't do this without you! 😀
I am offering two types of packages for the Back-to-School Mini Sessions:
Back2School Minis will be held on August 16 (rain day will be Aug 17) & August 24 (rain day is Aug 25). Choose your spot HERE!
*Please Note* that if you're signing your family up, please take TWO ten minute slots. If you're signing up a student please take ONE ten minute slot per student. If you have any questions just email me at naomi@naomielizabethphotography.com. To reserve your session on August 16 (Rain Day will be Aug 17) & August 24 (Rain Day is Aug 25) CLICK HERE. If for some reason one of these dates doesn't fit your family calendar, I will be doing my Fall Mini Sessions (those dates are HERE) & you can keep your eye out for when I announce those signups 🙂

NEW FOR 2019 Non-refundable deposits of $25.00 are required to officially hold the session. Once you signup for a spot, you'll receive an email soon with an invoice to pay the deposit fee. That will be subtracted from your entire fee & the remainder fee will be due the day of your session.
INDIVIDUAL STUDENT SESSION:
– First Student – 5-7 Images | $35.00
– I will spend time with each student & take photos of them that truly capture their smile & personality!
– If you have more then one child-great! After your first child, it's just $25.00 per additional child.
– Session is 10 minutes.
FAMILY SESSION:
– Family's up to 6 members ($10.00 per additional family member after 6 members) 12-15 Images | $90.00
– Session will take 20 minutes. We'll have a blast having your family interact together & capture your family as a whole along with individual pictures of each child in the family!
Every year of homeschooling is a milestone! And capturing your children & family at this time, is a joy of mine.
All images will be delivered within 3 weeks of the session via email with a link to an online gallery where they can be downloaded to your computer & then printed wherever you choose. Print Release is also included. Full payment is due at session. An online contract & more details about preparing for your session will be emailed ahead of time. No outfit changes are allowed. These sessions are in my opinion not suitable for seniors in high school. Feel free to ask me about my Senior Experience Package!
If you have any other questions about how a mini session with Naomi Elizabeth Photography is, please feel free to read THIS POST I wrote to answer questions.